The ultimate form of support for an artist is to become a subscriber! Subscribing allows you to stand out in chat, grants you access to previous streams and exclusive content if available, and custom artist specified perks! You can subscribe to a broadcaster by clicking the Subscribe button under the broadcast. You can pay with a major credit card using Stripe, PayPal, or with AMPs.

Configuring your Subscriber settings
Artists, to setup your Subscriptions, go to the "Subscriber Settings" tab on your Broadcast page. You can configure the following:
Community name: Customize the name of your Subscriber community!
Banner: Upload a 700x150 image that will be displayed on the Subscriber perks page
Add Tier: You need to add at least one tier to enable Subscribers on your channel. When you add a tier you can associate perks with that tier. You can add multiple tiers with different subscription costs with different perks.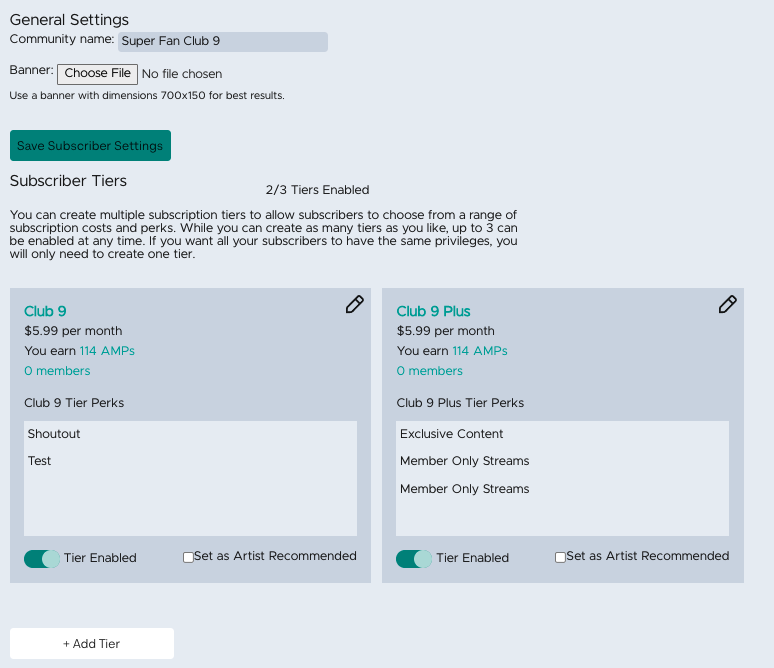 Subscriber Tiers each have their own name, monthly price, and perks. Set the monthly price to enable the tier.
Select one of Volume's suggested perks, or create your own Custom perk!
Volume suggested perks include:
Exclusive content - All members get early access to videos, mp3 clips, and posts
Subscriber Only Streams - Exclusive access to all shows and live streams
Custom Perk Title - Artists can create a custom perk that they will provide to their fans.
When users click the "Subscribe" button on your page, they will see will be able to see the available tiers and perks.
Adding Exclusive Subscription Content
Upload exclusive photos and videos in your Bio tab by clicking the "Upload new pics" and "Upload new videos" buttons and set the visibility to "Subscribers Only".
To add replays for access by Subscribers, click your username in the top right of the website and then click My Collections > My Past Streams. Set a previous broadcast to "Subscribers Only" so Subscribers can watch past streams at any time in your Past Streams tab!